East: Indian & Persian Concert

| | |
| --- | --- |
| | November 24, 2018 |
| | 6:30 pm |
| | Vancouver |
| | The Dance Centre, 677 Davie Street, Vancouver, BC |
| | Google Map |
Tickets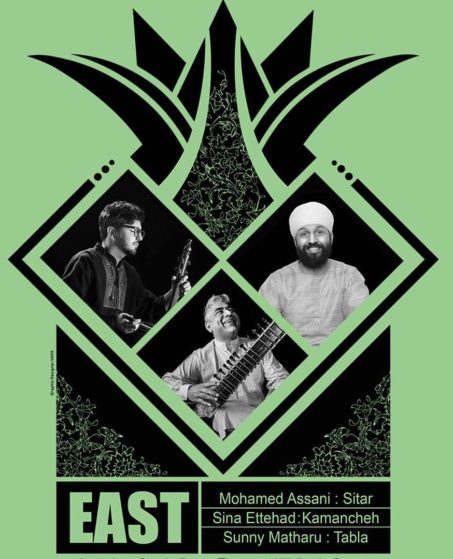 Enjoy a concert that brings together the sister traditions of South Asian and Persian Classical music traditions. Featuring Mohamed Assani on sitar, Sina Ettehad on kamancheh, and Sunny Matharu on tabla.
Several centuries of Moghul rule in northern India left a strong imprint on Hindustani music which resulted from the mysticism, poetry, and musical subtleties of the Persian language and culture. The music that we play together reflects the improvisation styles of our cultures. This means taking a small idea or melodic form or phrase and developing it into something much larger, beyond its primary character.
Presented by Shahrzad Art Festival.
ABOUT THE MUSICIANS:
Mohamed Assani (Sitar)
Mohamed Assani is a celebrated sitar player and composer, known for being a proactive ambassador for his rich musical tradition. He has brought the sitar to new audiences through innovative collaborations that have stretched the boundaries of his instrument. Mohamed has performed Hindustani classical music as well as his own original music across the globe — with orchestras, string quartets, hip hop artists, DJs, world music ensembles, jazz artists, Indian & Pakistani classical artists — and as a soloist. According to the Georgia Straight, "Assani is both a musician who's deeply rooted in the artistic traditions of South Asia and a one-of-a-kind innovator."
Sina Ettehad (Kamancheh)
Sina Ettehad (Kamancheh, Violin, Composition) has performed in Iran, Canada and the United States. He was a core member of the Kereshmeh Ensemble and is currently an active member of the Vancouver Inter-Cultural Orchestra, Zaryab Ensemble, Raha Ensemble and Wind Band. Over the last eight years, Sina has composed and performed for numerous film and theatre productions. In 2010, Sina and the Kereshmeh Ensemble performed with the Vancouver Symphony Orchestra in what was the first collaboration of a Persian ensemble and the VSO. The show featured the legendary Iranian singer, Ali Reza Ghorbani and received outstanding reviews. Shortly after, Sina and the Kereshmeh Ensemble toured Canada concluding with two live recording sessions for the CBC. In the last few years, he has started producing a fusion music series called "Fusik". Sina is a passionate teacher and currently teaches at his personal studio in North Vancouver as well as the Music Gallery Academy in West Vancouver.
Sunny Matharu (Tabla)
Growing up in a musical family, Sunny began his training in Tabla at a very young age. His training started with Ustad Satwant Singh, who gave him a strong foundation in the art of Tabla playing. To this day, he continues to learn under the guidance of Tabla maestro Pandit Yogesh Samsi, one of the foremost tabla players of the Punjab Gharana (style of playing). Over the last 20 years, Sunny has accompanied numerous musicians from around the world including many world-renowned musicians from the Indian Classical music tradtion as well as many Canadian/western artistes. Apart from performing, Sunny has taught Tabla at various institutes around the world and is a dedicated teacher, inspiring young children and students of all ages to learn Tabla. Sunny currently resides in Surrey, BC and is much sought after as a solo performer, recording artiste, accompanist, and teacher.